Я тут давеча о седалищах писал, какими прекрасными они могут быть. Так вот - это всё фигня. Оказывается, креаторы своим внимание не обделяют никого и ничего. Даже моторизацию. Оказывается, креаторы умеют мапЭды проектировать. И вот это на самом деле прекрасно.

Электрический печатный мапэд. Таким нынче никого не удивить, особенно после печатных самолётов. Тоже мне, бином Ньютона...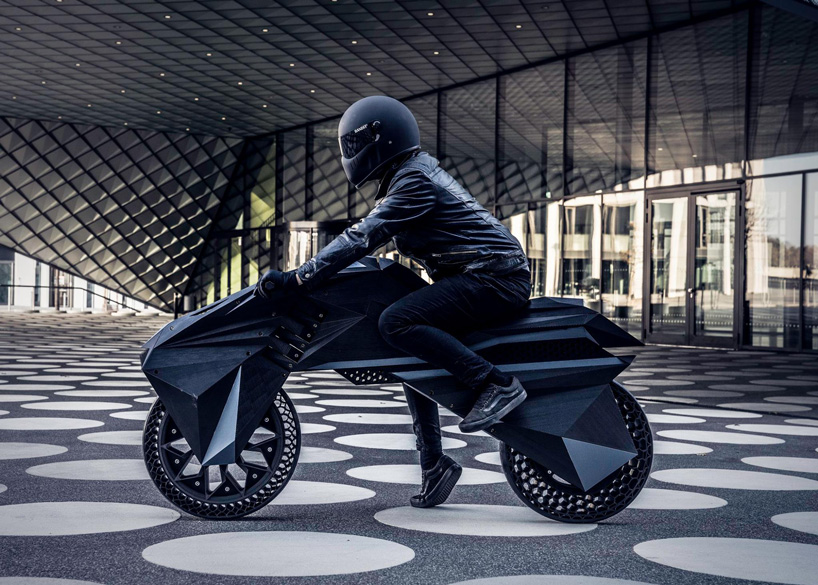 BigRep revealed the world's first 3D-printed electric motorcycle with ground-breaking features like airless tires, embedded electronics, and forkless steering.

То ли дело возвращение к истокам. Настолько нормально, что даже нудно.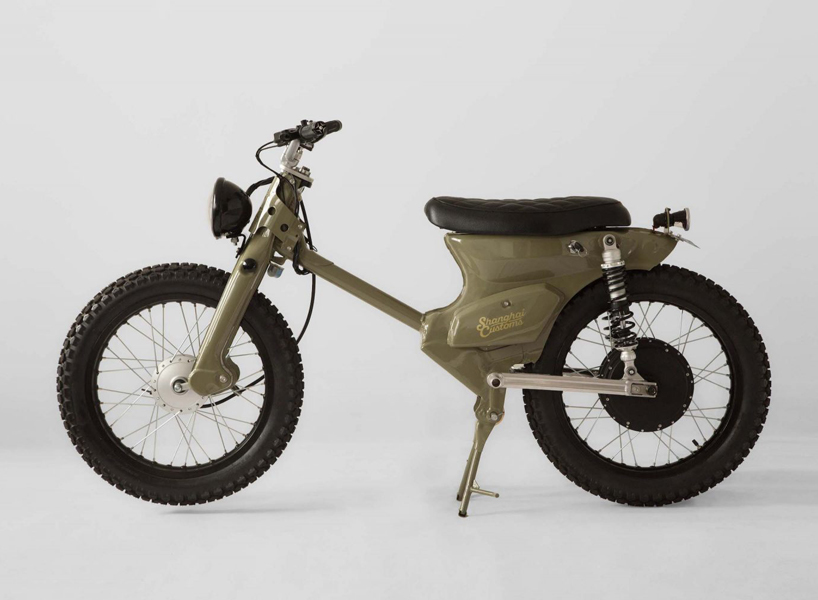 created by shanghai customs and dubbed the 'eCub 2,' this electric motorcycle successfully blends the classic honda super cub chassis with an all-electric drivetrain, resulting in a custom build that lets the 1950's bike create zero emissions while portraying an understated grace. featuring a 1000 watt electric motor in the rear wheel hub and a removable battery pack comprised of panasonic 3.7v 3.400 mAh lithium-ion 18650 cells, the eCub 2's range is 25 miles (40 km) at a 30 mph speed.

А вот дальше - полёт фантазии.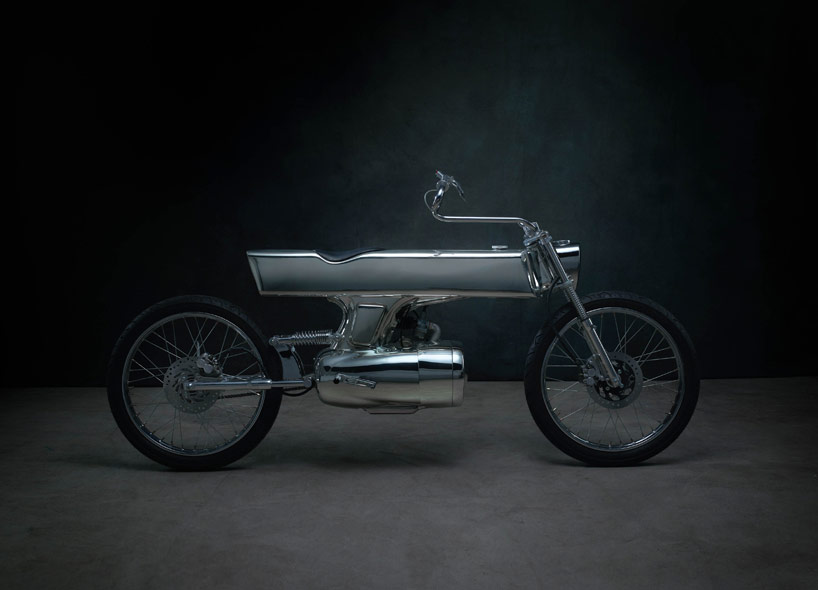 much like the wonder that surrounded the launches of the inspirational USS enterprise or even their 'EDEN' model, the bandit9 'L concept' is a sci-fi masterpiece in its own right. it disregards the ordinary, where it is instead shaped from a minimalist form and suspended turbine to define a fully functional work of art. the handcrafted unibody and engine took over 60 hours to finish, with its exhaust rests underneath.

Мапэд - хорошо, но самокат - тоже не стоит забывать.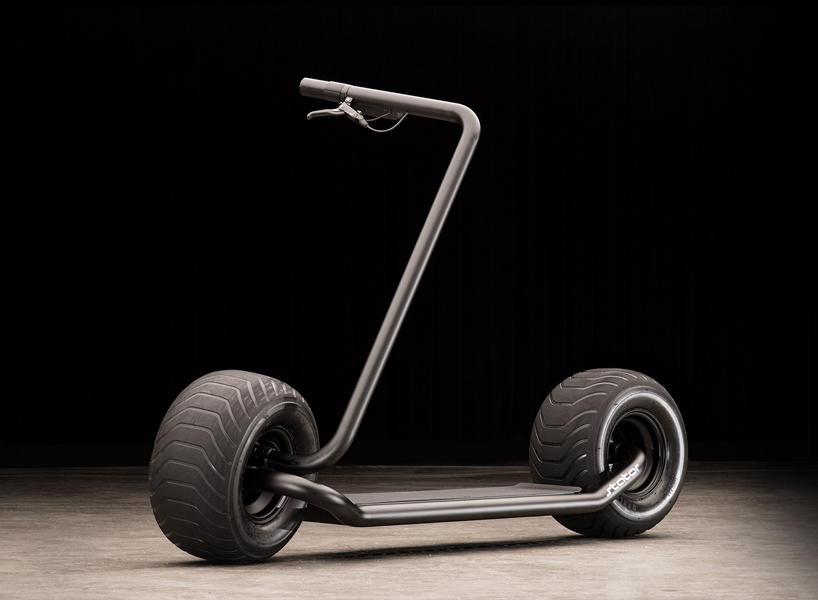 california-based product designer nathan allen has created a self-balancing electric scooter by pairing oversized wheels with a single tube frame. currently in functioning prototype form, the stator's powder-coated chromoly steel body comprises a one-sided handlebar hosting an electronic control unit, which is connected to the scooter's 1000W geared motor. the lightweight design weighs in at 90 lb (41 kg) and can carry riders weighing up to 250 lb (113 kg).

Для жителей роскошных апартаментов площадью 23 м - специальное предложение.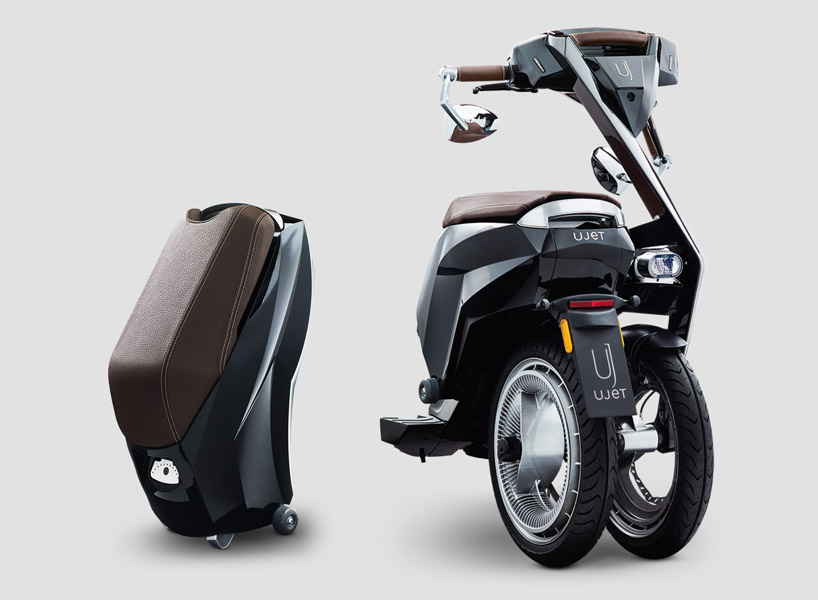 luxembourg-based UJET created the perfect city runabout – a fully foldable, electric scooter packed with smart connectivity features. the design features 14-inch spokeless wheels and a magnesium fiber frame that gives the bike its asymmetric, angular shape. it comes with two battery packs, with a range of 70 km and 150 km and a weight of 43 kg and 48 kg respectively.

А тем, кто не переносит асфальт, кому дорог ветер свободы и тем, кто ездит по азимуту - вот это.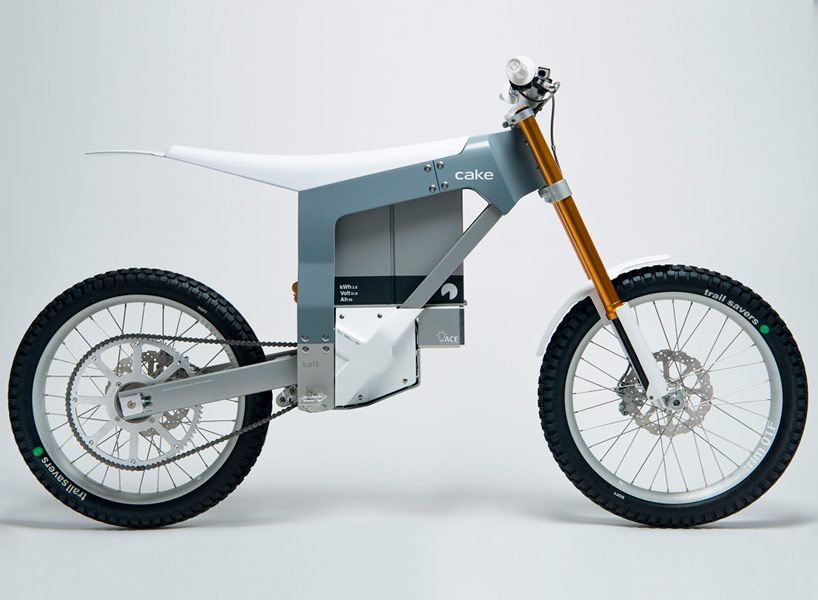 limited to just 50 editions, the cake 'KALK' motorcycle races on to the off-road scene with an all-mastering, all-electrified performance. it is powered by a 15 kW mid-motor and 1.8 volt, 50 Ah battery that propels it to a top speed of 50 mph, while travelling up to 50 miles on a single charge. whether on dirt or snow, the two-wheeler truly showcases its combined focus on off-road performance and innovation.

Но этом фоне убогие поделия монстров мотоиндустрии выглядят жалко.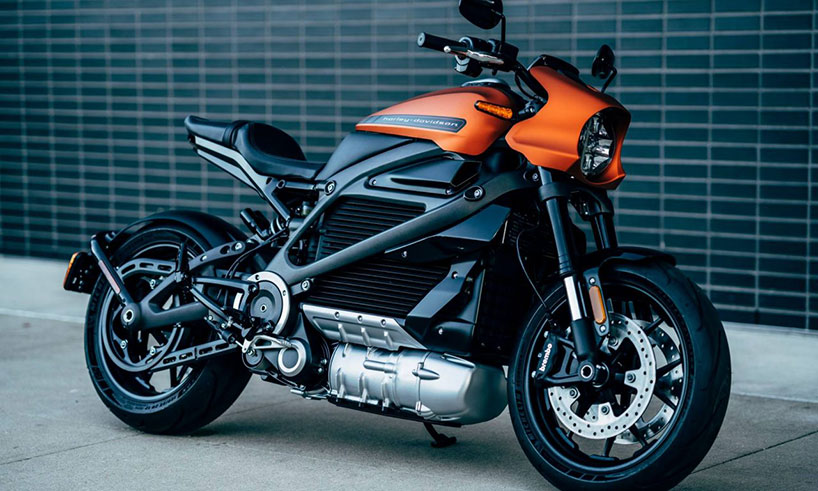 harley-davidson announced the presentation of its first electric model, dubbed the 'LiveWire', during milan's EICMA 2018 on november 6th. the model is an authentic harley-davidson expression of individuality, iconic style and performance that just happens to be electric. this is the first no-clutch, 'twist and go' motorcycle the american motorcycle manufacturer will put on the market but definitely not the last one.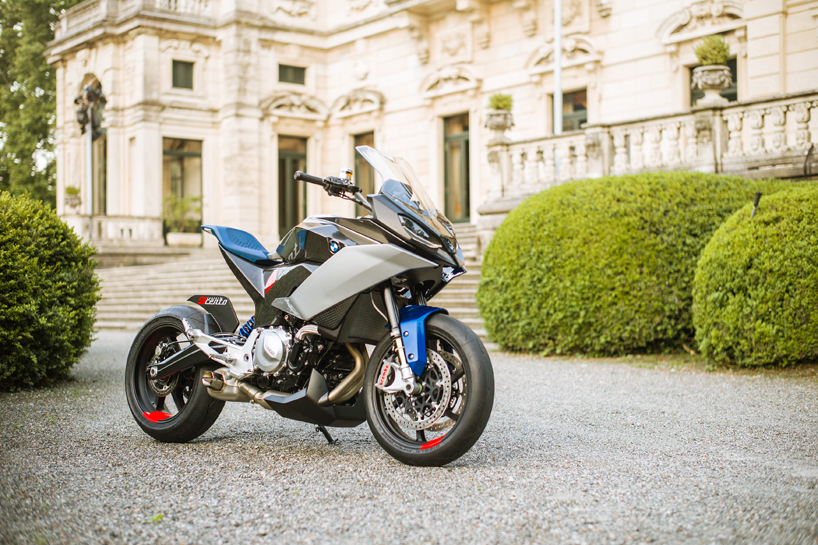 fitting in both style and performance from the streets of munich to the shores of lake como, the BMW motorrad 'concept 9cento' represents two motorcycling worlds on two-wheels. with its world debut at the concorso d'eleganza 2018, where designboom was exclusively present, the design challenges conventions to the point where its innovative luggage system takes center stage. the super lightweight case, which features two side compartments, clips on via a hook above the rear carrier and a powerful electromagnet below.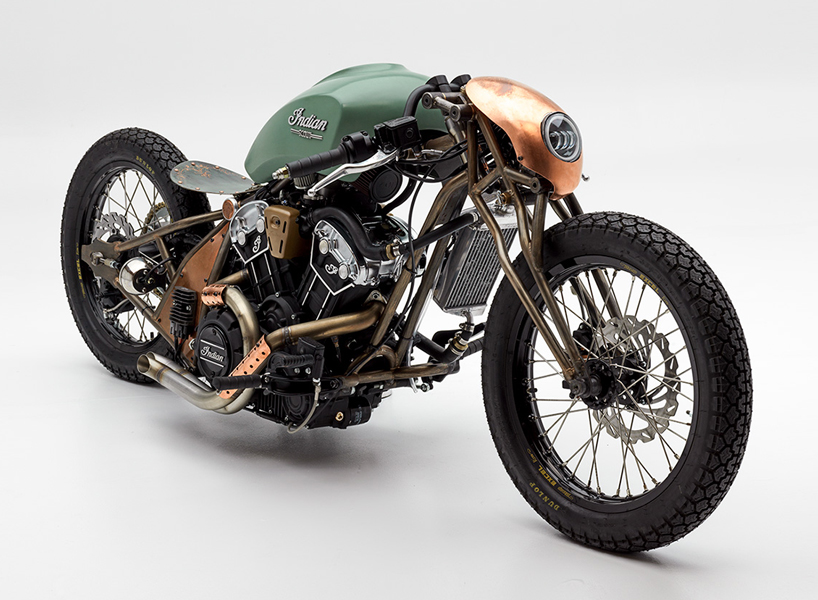 NASA engineer alfredo 'fred' juarez's custom indian scout bobber won indian motorcycle's 'the wrench: scout bobber build off'. the winning design features a completely custom hardtail frame that references a number of different mechanical works of art, both in an out of the motorcycle industry. the exposed frame allows for a closer look of the engine that boosts an impressive 100 barely-tamed horsepower of its 69-cubic-inch v-twin.

Просто мотоциклы. Банальнейшие, даже если электрические. На них можно просто ехать и они не сломаются. Но и внимания к себе они не привлекут особого. Не, ни разу не креатив.

Но лично мне очень понравилось вот это.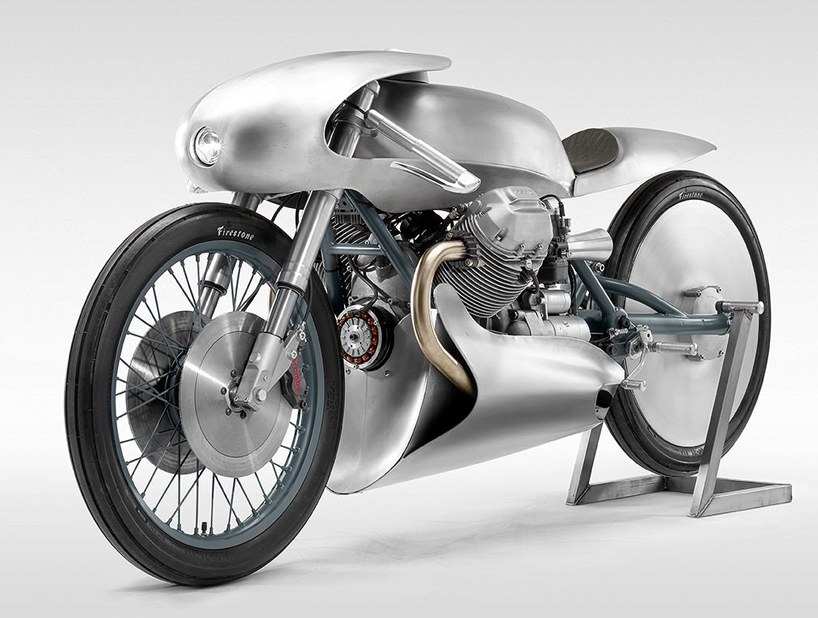 death machines of london traded engineering-convenience, again, for the pioneering of unruly parts. the 'moto guzzi lemans MKII airforce' is a tribute to the great aviator, world war veteran and moto guzzi founder giovanni ravelli (1887 – 1919). transforming a 1982 machine, the motorcycle features a stunningly sculpted body paired with aluminum parts and leather details.

Просто красота. Бессмысленная и беспощадная, исключительно стоять на подставке и блестеть полированными частями обтекаемого тельца. Особенно обмотки генератора.
Жду, что ещё мне дочь подбросит...