Как только какая то часть вооружения вырывается вперёд в своём развитии, так немедленно вслед за ней бежит защита. Классическая фраза - поединок брони и снаряда - даже в случае коптеров имеет применение.



При чём движуха идёт в сторону миниатюризации и универсальность. Так, чтобы дронопрехватчик мог применять любой боец, в любое время, в любых условиях.

The Drone-40 is the most amazing thing I saw at this year's SOFIC. Made by DefendTex, it is a low-cost, programmable 40 mm munition, providing kinetic or ISR options.

The round is fired from the launcher in order to get it aloft. To attain flight mode, it deploys four helicopter-style rotors to stabilize, move, and provide lift for loiter.

It offers 12 minutes of flight time and/or 20 minutes of loiter time. Cruising speed is 20 m/s and range at optimum speed is in excess of 10km.

Payloads include camera, anti-armor, fuel-air, HE/frag, diversionary, smoke, counter-UAS,

With these mixed of payload types, Drone-40 can be used individually, paired, or as a swarm, to a variety of effcts. For example, a team could launch one or more ISR configured munitions along with a swarm of anti-armor payloads and loiter over an ambush spot, waiting for a vehicle column. With Multi-Round Simultaneous Impact mode, multiple effects can be acheived at once, depending on the types of payloads delivered.

Тадаммммммм...
Загружаем в подствольник и плюх в небеса.


А там он как нибудь отыщет свою жертву.



А если мне не нравится коптерная версия перехватчика? ОК, можно зарядить крылатым выстрелом.





You might think that tiny autonomous drones that can be fired out of a standard 40 mm grenade launcher for rapid deployment would be the kind of thing the military would love to get their hands on. Which is true, of course, and a number of companies are working on the idea for police and military applications. But [Glytch] thinks the technology could also be used for search and rescue operations, so he's working on creating a version for us civilians.

During his presentation "3D Printing Canister-Launchable Drones for City-Scale Wardriving" at the 2019 CircleCityCon, [Glytch] gave an overview of his progress towards creating a small fixed-wing Unmanned Aerial Vehicle (UAV) that can be built even by those of us who don't have the budgets of a three letter government agency. He's not at the point where he can do a test launch just yet, but the design is coming along nicely, and we're extremely interested in seeing where it goes from here.

Были бы деньги и время - чесс слово, как минимум сделал бы попытку в эту сторону.

The only way you're fitting a winged aircraft into the bore of a 40 mm launcher is by folding it up, and so far, that's where [Glytch] has directed most of his efforts. The wings of his UAV will use a rigid leading edge that folds flat until deployment. When in flight mode, ripstop nylon attached between the body of the drone and the leading edge will be pulled taught to form the actual wing surface; think of it sort of like a bat's wing. A similar trick will be used for the two control surfaces at the rear of the craft.

Мягкое раскладное крыло - что может быть прекраснее?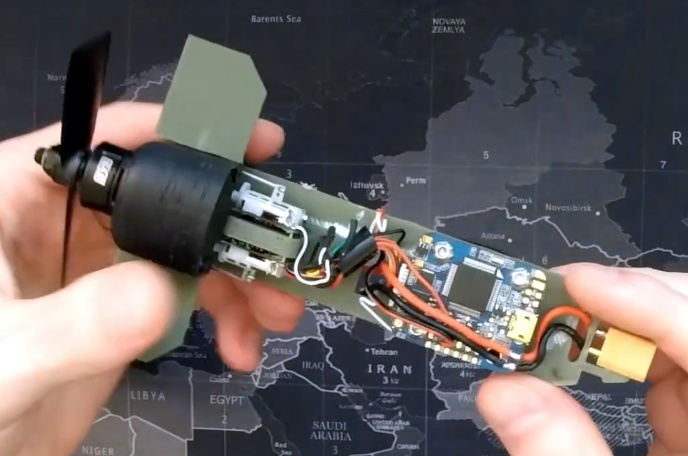 Ждут нас в ближайшее время чУдные открытия. Ибо РЭБ хорошо, а развалить на кусочки залетевшего негодника - лучше.